FORUM LAST TOPICS

News
International Hummer Club Birthday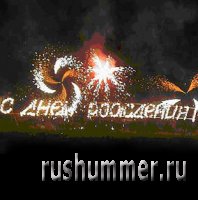 Dear all,
November, 21st, 2009 we will celebrate a Birthday of International Hummer Club!
This event will take place in famous Club "KINO" (Cinema), Moscow, Olympiysky prospect.
Motto of this event
Hummer Club brings a change to our live!
You are invited!
Come to see an entertainment program, take part in nice party and even become a movie star in the film, which we will do this night!
Once you are on this party- You'll find yourself on the other side of the screen and you'll become a part of the film as an actor, photo maker, producer or….
Don't miss the chance to get inside of movie making "Great Ride-2"
You can not join? Too far away from Moscow? Well, we'll be with you! Watch life internet translation at http://smotri.com/broadcast/view/?id=3172068
We'll be waiting for you at another side of the screen!